Filter Content
Thursday 4 March 2021
Well here we are, half way through Term 1 and isn't time flying by.
It is great to see things slowly returning to normal with a number of Clubs up and running and parents able to attend Breakfast Club.
Before and After School Play
Parents are reminded that the Megatoy and the Nature Play are out of bounds before school. The Nature Play is also out of bounds after school however we are happy for parents to supervise students to play on the Megatoy or on the Junior Oval. Please note that gates and toilets will be locked from 3.30pm.
Parents are required to follow current Government health advice regarding COVID protocols relating to social distancing and good hygiene.
Parking
Now that the Child and Parent Centre, Arbor Grove is up and running we request that parents and caregivers avoid parking in the bays clearly marked for the Child and Parent Centre. This will ensure that CPC staff and parents from across the Ellenbrook area accessing the CPC, many of whom will have prams and young children to manage, are able to park safely.
School Board
The Board is formed with the fundamental purpose of enabling parents and members of the community to engage in activities that are in the best interests of students and will enhance the education provided by the school.
The Arbor Grove Primary School Board consists of 9 members
The Principal
3 Staff
2 Community members
3 Parents
The 2021 School Board is
| | | |
| --- | --- | --- |
| Mrs Michelle Foster | Co-Chair | Community Member |
| Mr Jason Maloney | Co-Chair | Parent |
| Mrs Fiona Lee | | Community Member |
| Mr Glen Purdy | | Principal |
| Mr Brendan Wood | | Parent |
| Mrs Shannon Abbott | | Parent |
| Ms Alda Costa | | Staff |
| Mrs Kareena Nelson | | Staff |
| Mrs Deb Holt | | Staff |
Key Functions of the Board
The Board has the following key functions:
establishing and reviewing from time to time, the school's objectives, priorities and general policy directions;
to assist in the planning of financial arrangements necessary to fund those objectives, priorities and directions;
evaluating the school's performance in achieving them;
formulating codes of conduct for students at the school;
to promote the school in the community;
to note the school's Funding Agreement
Attendance
Whilst we would like every student to be here every day it is essential that when children get sick that they remain at home. The following table outlines the long term reduction in learning, frequent absences create.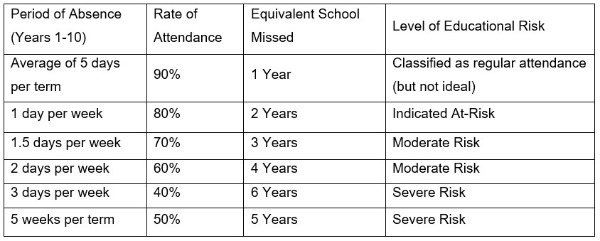 Glen Purdy
NAPLAN Online
The National Assessment Program – Literacy and Numeracy (NAPLAN) assesses literacy and numeracy skills that are essential for every child to progress through school and life. Students in Years 3, 5, 7 and 9 participate in the annual NAPLAN tests in reading, writing, conventions of language (spelling, grammar and punctuation) and numeracy.
Further information has been sent home with students in Years 3 and 5.
The NAPLAN Online test window is nine days from 11 – 21 May 2021.
To find out more about NAPLAN Online, visit nap.edu.au
Astrid Morgan
Room 23


Sensational Settings
For our Year 6 Narrative writing unit, students focused on writing a descriptive paragraph on a given setting. Students were encouraged to use emotive and highly descriptive language to generate an imaginative piece of writing. The following image was given to students to base their writing on.
| | | | | | | |
| --- | --- | --- | --- | --- | --- | --- |
| Pre Primary | Year 1 | Year 2 | Year 3 | Year 4 | Year 5 | Year 6 |
| Audrey | Katelyn | Charlotte | Toby | Sam | Asna | Lashiya |
| Parker | Doha | Anyak | Mason | | Wyatt | Jannat |
| Madelin | Tyler | Maia | Juliet | | Jayden | Bailee |
| Messi | Harleen | Zion | Amarni | | Kyana | Hannah |
| | India | David | Kennedy | | Ginger | Rohan |
| | | Puneet | Jade | | | |
| | | Aubree | | | | |
| | | Flynn | | | | |
| | | Charlotte | | | | |
| | | |
| --- | --- | --- |
| Literacy Award | Mathlete Award | Aussie of the Month |
| Tiffany | Lochlan | Darcy |
Foodbank WA School Incursion
Last Wednesday 24 February, Ms Cranfield's and Ms Brosnan's classes had a Food Sensations for Schools incursion. They learnt about healthy eating, did a fun nutrition education activity together and cooked up a storm. Both classes cooked six healthy and delicious recipes together and at the end they all sat down and shared a meal. A special thank you to the parents who came and helped out! Students were given recipe books to take home, and are looking forward to seeing what they cook next.
If you want to know more about Foodbank WA and their FREE programs for parents and adults, go to https://www.foodbank.org.au/WA/healthy-eating-cooking-programs/?state=wa for more information.
Our next P&C meeting will be on Wednesday 17 March 2021 at 6.30pm in the school staffroom. New members are always welcome.
Canteen
The canteen is open this year on Tuesday, Thursday and Friday. We encourage ordering via Flexischools however we are still taking over the counter orders.
Like all schools we are not able to open our canteen without volunteers. If you are able to help out even if it is only for a couple of hours please email Jenni at arborgrovep-c@hotmail.com.
Would you like to have a say about what is on the menu? Why not join the P&C and join the Canteen Committee. We are always looking for new people to come on board and bring new ideas with them.
Fundraising
For regular updates on events and the canteen visit our P&C Facebook pages and keep an eye out for Connect notices.

EASTER RAFFLE
Please keep the Easter donations coming in. The more donations received means the more prizes to be won!
If you missed the notifcations, the Fundraising Committee are collecting donations of ANYTHING chocolate, as well as sweets, cookies, craft, cellophane, ribbons, baskets etc.
Donations can be placed in the canteen basket in your child's classroom or dropped to the canteen by Friday March 12.
Thank you to the families who have already donated.
Wine and Gin Fundraiser
We are continuing with our Wine and Gin fundraiser for 2021. Visit the below link to order your goodies today.
Wise Winery are a Halliday 5 Star rated, Margaret River winery supplying sweet, dry, red, white, sparkling plus a great range of Gin's to choose from.
FREE DELIVERY (AUS WIDE) straight to your door plus 20% of sales comes back to our fundraising.
Visit https://wisewine.com.au/arbor-grove-primary-school/
You can also see how much we have raised for this fundraiser by clicking on the link.
Feel free to spread the word to your family and friends.
If 12 bottles are too much get together and share a case. You can pick any combination of wines and gin to make up the 12 bottles!


Entertainment Memberships
1-year Single City for just $69.99
visit https://www.entertainment.com.au/orderbooks/87028a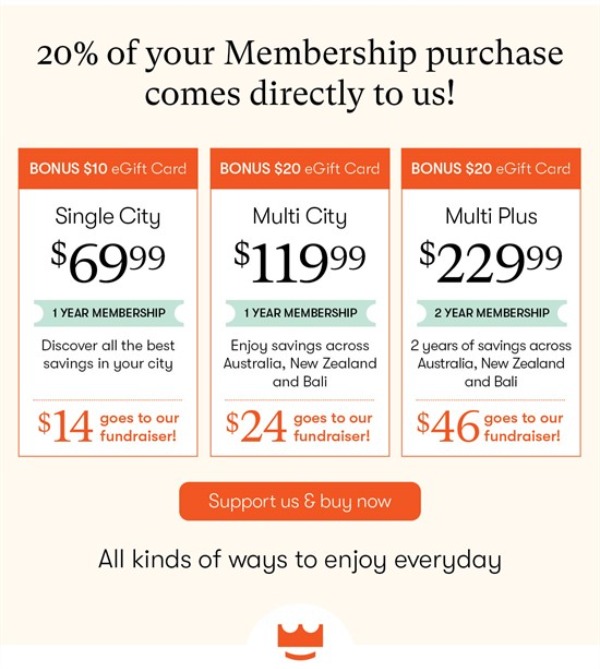 *BONUS eGift Card Offer
You will have the option to choose either a BONUS Woolworths Store eGift Card or a JB Hi-Fi eGift Card in the denomination assigned to the Membership product purchased. You must redeem your choice of BONUS eGift Card within 60 days from the date of purchase from the Entertainment portal. Your BONUS eGift Card will be sent by email within 30 days after choosing your BONUS eGift Card in the Entertainment portal. The link to the portal to choose your BONUS eGift Card will expire on the 14 June 2021.
Choose a BONUS $10 Woolworths Store eGift Card or $10 JB Hi-Fi eGift Card when a Single City Membership product is purchased or choose a $20 Woolworths Store eGift Card or $20 JB Hi-Fi eGift Card when a Multi City or Multi Plus Membership product is purchased between 12:00am Tuesday 16 February 2021 and 11:59pm Monday 15th April 2021 AEST. One eGift Card per product purchased.
Offer excludes Entertainment merchant waitstaff offers and Corporate Partner offers.
Woolworths Store eGift Card Terms: View Gift Card FAQs here - https://giftcards.woolworths.com.au/about/terms-and-conditions. Your BONUS Woolworths Store eGift Card does not expire. Lost or stolen cards cannot be replaced. If you request a refund on your Entertainment Membership within 30 days of your purchase and it is after receiving your eGift Card, the amount of the eGift Card will be deducted from the original value of your Membership purchased.
BONUS JB Hi-Fi eGift Cards Terms. View JB Hi-Fi eGift Card FAQs here - https://support.jbhifi.com.au/hc/en-au/categories/360004372033-Gift-Cards. JB Hi-Fi eGift Cards do not expire. Lost or stolen cards cannot be replaced. If you request a refund on your Entertainment Membership within 30 days of your purchase and it is after receiving your eGift Card, the amount of the eGift Card will be deducted from the original value of your Membership purchased.
*All member offers are subject to terms and conditions. Check individual offers on the Entertainment Membership App or www.entertainment.com.au for more information. For all dining offers, it is optional for participating businesses to accept your Entertainment Memberships on all official Australian and New Zealand public holidays, Mother's Day, Father's Day and Valentine's Day. © 2021 Entertainment Publications of Australia Pty Ltd.
Our school uses the Flexischools online ordering system for our Canteen as well as P&C Events and Fundraising.
Flexischools allows you to place all these orders online in a matter of seconds, at any time of the day.
Download the Flexischools App
Note: for iPhone and iPad please select 'Allow' notifications.
2. Add your School and Group
Click on the search icon, enter Arbor Grove Primary School, select your school and year group.
3. Login/Register
Click the 'Order now' button located in the bottom right-hand corner of the app, this will open a login screen.
Already a Flexischools user - Enter your details and login. To save your login details select 'remember me'.
New Flexischools user - Click 'Register', enter your email address, and follow the instructions in the email to set up your account.
Once your account is set up, add new student; search for our school, enter student details and select their class.
Once registered, you can start placing orders immediately. If you have any questions, please see Jenni in the canteen for more information or you can contact the Flexischools Customer Service Team via their website.
The Flexischools system is now available and ready to use, so we look forward to seeing your next order online.
School Banking
School Banking rewards now available!
This year there is a selection of rewards available from previous years to make sure you don't miss out on the ones you wanted!
For every deposit made at school, students will receive a Dollarmites token. Once students have individually completed 10 deposits/reached 10 tokens they can redeem them for a School Banking reward item.
Thank you for supporting the School Banking program and remember, School Banking day is every Tuesday.


P&C Contact Details
Hayley Hennessy – President – agpsp-cpresident@outlook.com.au
Rachael Jones – Secretary – agpsp-csecretary@outlook.com.au
Amy Holmes – Fundraising Coordinator – agpsp-cfundraising@outlook.com.au
Jenni – Canteen Supervisor – arborgrovep-c@hotmail.com
Canteen – (08) 6497 4831