Filter Content
Thursday 19 August 2021
Well the term is flying by and fortunately some warmer weather appears to have arrived.
It is fantastic watching the students (and teachers) hard at work practicing for the upcoming sports carnival. We have our fingers crossed for good weather and no COVID issues. It will be amazing seeing parents and grandparents on the grounds on carnival day.
Please remember that we also have Book Week, Harmony Day and of course the Open Night in coming weeks. These are events where our community shine and really come together. I hope to see lots of you on Open Night as you enjoy a learning journey with your children.
I would encourage parents to keep an eye on the school webpage in the next week. We will be placing our school COVID / Remote Learning Plan as well as our Bushfire Plan on the school web page. We only have to think back to the first week of the school year to see the impact both COVID and a bushfire can have on our day to day operations.
Survey Results
Thank you to the over 90 families that completed the biennial survey for the school.
The results have identified some areas for the school to reflect on and improve. The staff are busy analysing the data and preparing an action plan which, when finalised, will be presented to the Board. Rather than "strip out" the impact of COVID we are instead going to embrace the results, reflect on existing processes and identify areas to improve.
| | | | | | | | | | | |
| --- | --- | --- | --- | --- | --- | --- | --- | --- | --- | --- |
| | Teachers at this school expect students to do their best | Teachers at this school provide students with useful feedback | Teachers at this school treat students fairly | This school is well maintained | Students feel safe at this school | Parents at this school can talk to teachers about their concerns | Student behaviour is well managed at this school | Students like being at this school | This school looks for ways to improve | This school takes parent opinions seriously |
| 2014 Parent Survey | 4.4 | 4.1 | 4 | 4.3 | 4.4 | 4.5 | 3.9 | 4.4 | 4.1 | 4 |
| 2016 Parent Survey | 4.3 | 3.8 | 3.9 | 4.3 | 4.3 | 4.2 | 3.8 | 4.3 | 3.9 | 3.7 |
| 2017 Parent Survey | 4.2 | 3.9 | 4 | 4.4 | 4.3 | 4.2 | 3.9 | 4.4 | 4.2 | 3.9 |
| 2018 Parent Survey | 4.4 | 4.3 | 4.3 | 4.4 | 4.4 | 4.5 | 4.1 | 4.5 | 4.4 | 4.3 |
| 2021 Parent Survey | 4.2 | 3.8 | 3.7 | 4 | 4 | 4.1 | 3.5 | 4 | 3.7 | 3.4 |
T

eachers at this school motivate students to learn

My child is making good progress at this school

Students learning needs are being met at this school

This school works with parents to support student learning

The school has a strong relationship with the local community

This school is well led

I am satisfied with the overall standard of education achieved at this school

I would recommend this school to others

Teachers at this school are good teachers

Teachers at this school care about their students

2014 Parent Survey

4.1

4.2

3.9

4.1

3.7

3.8

3.9

4.1

2016 Parent Survey

4

4

3.8

3.8

3.8

3.8

3.9

3.9

4.3

4.2

2017 Parent Survey

4.1

4.1

4

3.9

3.8

4.2

4

4.2

4.3

4.3

2018 Parent Survey

4.4

4.3

4.3

4.4

4.4

4.5

4.4

4.5

4.6

4.5

2021 Parent Survey

3.9

3.9

3.7

3.6

3.5

3.6

3.6

3.7

4.2

4.1
Improvement is a life long journey and we at Arbor Grove Primary understand this.
Hats and Water Bottles
As the weather begins to warm it is timely to remind everyone of the importance of having a hat (with your name on it) and a water bottle. When students do not have hats they unfortunately will not be permitted to play in the sun.
Glen Purdy
ARBOR GROVE KINDY INFORMATION SESSION 2022
All parents who have enrolled their children at Arbor Grove for our Kindy Program 2022 are invited to attend our information session. Please join our current Kindy teachers on Wednesday 8 September at 9:00am in the Library.
You will be given information regarding;
The Arbor Grove Kindergarten program
Why attending Kindergarten is important
How you can support your child when commencing Kindergarten
'Little Groves' Social Skills Kindy Transition Program Information
The role of the Arbor Grove P&C
During this session you will find out which days your child will attend in which classroom. You will be given an information pack with relevant documents to assist with your child's transition to school.
If you would like any further information, please feel free to contact the school.


ARBOR GROVE KINDY TRANSITION 2022 – 'Little Groves'
This year Arbor Grove will be running a Kindy Transition program for any student enrolled for Kindy in 2022 at Arbor Grove during Term 4. These sessions run each Thursday morning at 9am and 10:15am in EC3 until week 9. Registration for the program is essential.
Little Groves is a social skills program that helps children to develop friendships and supports their transition to school. It consists of weekly one hour sessions, where parents and children participate in activities in the classroom designed to support their readiness for school.
If you know anyone who has a child who will be attending Kindergarten in 2022 please let them know Arbor Grove Primary School is now taking enrolments. Places are filling fast!
If you would like any further information, please feel free to contact the school.
Kym McCabe
| | | | | | | |
| --- | --- | --- | --- | --- | --- | --- |
| Pre Primary | Year 1 | Year 2 | Year 3 | Year 4 | Year 5 | Year 6 |
| Bianca | Evie | Amity | Amarni | Sam | Lucas | Arsalan |
| Lola | Lilly | Madeleine | Aoife | Joel | Beau | Abdullah |
| Yuang | Chase | Eunice | Isaac | Indi | Lana | Rohan |
| Noah | Gus | Abbey | Ezra | Dakotah | Logan | |
| Sellinna | Dalal | Calvin | Poppy | | Cooper | |
| TK | Sana | Amelia | Ella | | Keiyanah | |
| | Harlow | Chase | Emma | | Faith | |
| | Celine | Isla | Lilly | | Jason | |
| | Tayla | | | | Colin | |
| | Harfateh | | | | Olivia | |
| | Mason | | | | Aydan | |
| | | |
| --- | --- | --- |
| Literacy Award | Mathlete Award | Aussie of the Month |
| Lashiya | Haadi | Luke |
Room 20
We have had an eventful term already with NAIDOC week and our class assembly in week 2.
We learnt about Indigenous Astronomy in the lead up to NAIDOC Week. The 2021 Theme is "Heal Country!"
Astronomy plays a big part in Aboriginal culture. Many Aboriginal groups use the movement of the planets and stars as a calendar to calculate the seasons and fix the date of certain tribal activities. We chose the Dreamtime Story "The Emu in the Sky" to investigate how astronomy has impacted Indigenous life for many thousands of years.
The 'Emu in the Sky' is a spectacle which is visible in the Autumn sky. Dark nebulae (interstellar dust and gases) contrast with the bright stars of the Milky Way to form the shape of an emu.
We created artwork to represent "The Emu in the Sky".
We have also been investigating different influential Indigenous Australians and the impact they have made. Students chose one person to research and present their findings. Some chose a digital format while others created posters and booklets to display their research.
We have been busy creating some great work to display for Parent Night in week 6 – shhh we will keep this a surprise!
Design and Technology Year 5
This term the Year 5's are embarking on a crocheting journey. We will be trying our hand at finger crocheting and we have been lucky enough that Mat and James from Big W, Ellenbrook agreed to donate 100 balls of 8 ply wool to our students. This was a very generous donation and it has meant that each student will have their own ball of wool. We are looking at donating the knee rugs we will make by the end of the term to a nearby aged care facility. Stay tuned for the finished product!
Susan Walker, Rikki Brosnan and David Brown
Year 5 Teachers
Pre Primary Enrolments
We still have a number of families of current Kindergarten students yet to submit their Application for Enrolment forms for Pre Primary. These need to be returned to the office ASAP, together with proof of address and an updated Immunisation History Statement. Please note your child's enrolment into Pre Primary will not be guaranteed without this documentation. If you have any queries please contact the office.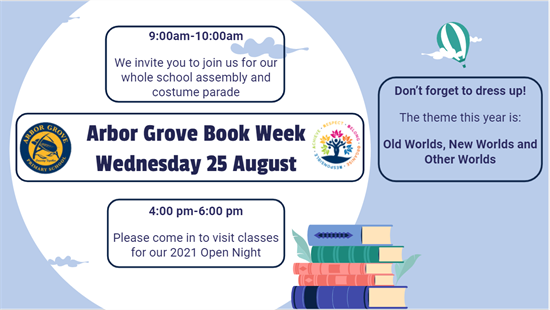 Fundraising
Father's Day Stall and Raffle
Please ensure you have your order in by 3pm Friday 27 August 2021.
FACTION CARNIVAL HELPERS REQUIRED
The P&C are currently planning our BBQ and cake stall for the Faction Carnival - Friday 3 September.
We are looking for bakers to make us some treats for the stall. (Baked goods can be dropped to the canteen on Thursday afternoon from 2pm to 3pm or Friday morning.) Please keep in mind items will be sold for 50c or $1 each.
We will also be needing volunteers to help on the BBQ and stall. (This year the P&C have secured the best seats at the carnival, so you can watch your child while you help.)
Pre-orders for students will be sent home shortly for lunches. Students will also have a chance to purchase the stall treats at lunchtime.
If you can help, please message Hayley on our P&C Facebook page, email agpsp-cpresident@outlook.com.au or text Hayley on 0411 219 391.
We can't do this without all your help.
Hair Accessories
Sports Carnival and School Photo Day is in week 7 and 8
Get your orders in early so you don't miss out
We are excited to be affiliated with @PonytailsAndFairytales and School Ponytails.
Shop for our school uniform hair accessories through their website at https://www.ponytailsandfairytales.com.au/.../arbor-grove...
From every purchase our school community earns 20%.
Shop for bows and sports products online, where there's PayPal, After Pay, Cards, and Bank Deposit payments available.
When you put our fundraising code (ARBOR GROVE PS) in the checkout, our school community benefits!
Entertainment Memberships
Visit: https://www.entertainment.com.au/orderbooks/87028a
Canteen
Open Tuesday, Thursday and Friday
8.15am until 2pm
Cash lunch orders are accepted over the counter or placed in the classroom canteen baskets while card payments are to be placed via Flexischools.
Last orders accepted 9.15am
If your child goes home sick or you need to change their order on the day, please call through to the canteen as soon as you can on 6497 4831. We are here to help.
Our school uses the Flexischools online ordering system for our Canteen as well as P&C Events and Fundraising.
Flexischools allows you to place all these orders online
in a matter of seconds, at any time of the day.
Login/Register - Once registered, you can start placing orders immediately. If you have any questions, please see Jenni in the canteen or you can contact the Flexischools Customer Service Team via their website.

*Handy hint: When placing Flexischools orders, please ensure you press the confirm button otherwise the order will not process, and it will not be received. If you are ever unsure if your order has been processed please feel free to contact us and we can look it up our end.



School Banking
Conducted at the canteen each Tuesday morning between 8.30am and 9am by Michelle our School Banking Coordinator.



P&C Contact Details
Keep up to date with regular Connect notices and by liking our P&C Facebook pages.
Playgroup at the Child and Parent Centre
This week we transitioned from one playgroup to two on a Tuesday morning. This was in response to feedback from parents/carers attending the group and due to the high number of families attending. We now have a group for each age range.
Joey's (birth to 1 year) 9.00am to 10.00am
Kangaroo's (1 to 4 years) 10.15am to 11.45am
If you have a child in both age groups, we ask that you attend the group which is age appropriate for your eldest child. You are most welcome to bring along younger siblings to that group.
Bookings are not required for our playgroups, feel free to come along on the day.
We look forward to seeing you soon.
If you have any questions you can give the centre team a call on 9263 2845.
We also have a closed Facebook group which you might like to join - search 'Child and Parent Centre Abror Grove' and click 'request to join'.
| | |
| --- | --- |
| Monday 23 - Friday 27 August | Book Week |
| Monday 23 - Friday 27 August | Harmony Week |
| Wednesday 25 August | Whole School Assembly and Costume Parade |
| Wednesday 25 August | 2021 Open Night |
| Wednesday 1 September | Faction Carnival Jumps Day |
| Friday 3 September | Faction Carnival |
| Tuesday 7 and Thursday 9 September | School Photos |
| Wednesday 8 September | Kindergarten Information Session |